Introduce The New 3U 16 Drives
Support Upto 16 SATA 3 Gbs Drives
Redundant Power Supply
Built-in RAID engine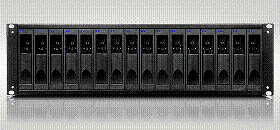 **Click on pictures to enlarge
**Click here to Accessories
Multi-Path I/O

RSS362 Series Enterprise IntelliRAID Now Supports Microsoft Multipath I/O (MPIO) that integrates tightly with the Microsoft Windows® family of products and their architectures. High reliance on the Internet and e-commerce means that organizations are increasingly requiring that their data be available 24x7, year round. Multipathing, the ability of a System to use more than one read/write path to a storage device, is a high availability solution that provides fault tolerance against single-point-of failure in hardware components. Multipathing can also provide load balancing of I/O traffic, thereby improving system and application performance.


Power & Cooling

RSS362 keeps your workloads and critical applications running 24x7 without hardware failure interruption through the deployment of intelligent and user friendly power and cooling management, specifically its redundant hot-swappable power supplies (2) and fans (2). As described by the testing engineer from hard drive manufacturer Western Digital Corporation's interoperability lab ". This system can compete side by side with some of the best systems that we have tested in our lab to date.".
Product Overview

The

RSS362

is an enterprise class JBOD storage system designed to provide storage expansion to the award-winning ULTRASTOR™ RS family. Utilizing point-to-point host/disk connectivity and high performance SAS disks, the RSS362 offers Enterprise-grade fault tolerance solution and improved performance for applications that demand nothing short of superior reliability. Designed to accept both high reliability SAS disks and high capacity SATA disks, the new RSS362 is becoming the new standard for enterprise storage expansion.
Feature & Benefits


Enterprise-class, cable-less enclosure design with integrated power and cooling
Next generation Serial Attached SCSI dual ports produce up to 2,400MB/s bandwidth
3U modular rack design easily integrates into existing storage infrastructures
Accept a mixed of high reliability SAS drives or high capacity SATA drives
Extended storage management through Web GUI via TCP or LCD panel
RSS362 Versatility

Featuring two SAS channels and one SAS expandable port, the RSS362 provides expandability critical to a company's IT infrastructure. RSS362 is ideal for data intensive applications, and is powered by dual cutting edge SAS host connections which maximizes disk performance allowing for a broader range of storage possibilities. The RS16 JS works best when connecting to an advanced RSS362 series RAID system with dynamic on-line RAID expansion, allowing additional capacity to be added without total system downtime, increasing your department's productivity..


Appliance-based Storage

RSS362 is a host dependent JBOD storage system which connects either to a host system/server based JBOD or RAID HBA or to an advanced RSS362 series RAID system, a flexible way of adding additional RAID protected storage to an existing IT infrastructure, regardless of your operating system or hardware. The RSS362 provides easy scalability for the RSP361, RSS361, and RSF361 and is designed to easily integrate into elaborate SAN fabrics or point-to-point centralized storage. RSS362 truly offers a flexible and powerful solution that will increase your capacity, productivity and add unprecedented data protection.


Powerful Storage Management

The new RSS362 offers multiple management options to match your workflow, and can be completely auto configured in minutes using the convenient rear LCD control panel, and monitored or reconfigured through a remote connection. A comprehensive menu screen facilitates the setup process and lets users reconfigure the system as storage needs change. A Web Graphic User interface gives users access to advanced features such as multiple array settings, iSCSI parameters (connection mode, ID, LUN mapping, etc.) SNMP features and security options. A network interface is available for remote web browser based management and includes the essential tools required to manage and monitor your RSS systems.